Real Church Sunday School Series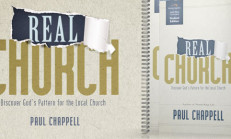 The local New Testament church has been attacked, misunderstood, marginalized, and reinvented. But the real local church—the institution Christ purchased with His own blood—is still God's plan for reaching the world and transforming lives one at a time.
In this thirteen-lesson curriculum, discover authentic church life from the dynamic first century churches in the New Testament. Learn the biblical functions of the local church, principles for building healthy and loving relationships in the body, and discover how you fit into God's eternal plan for changing the world through your local church.
Lessons in this series:
A Real Beginning
A Real Faith
A Real Purpose
A Real Witness
Real Missions
Real Relationships
Real Fellowship
Real Discipleship
Real Worship
Real Prayer
Real Labor
Real Giving
Real Faithfulness